The Weston – two cafés, only one with a discount.
That Benugo in the readers' bit of the Weston
You can't take any books or papers in here (the man on the gate is very strict about that) – but if you go in the side door of the Weston, and take the first right, you'll enjoy some of the most student-discounted coffee you can get in Oxford. The brew's not too bad, the pastries are fine and with it being in the Weston, you get to feel like a Big Deal just sitting there.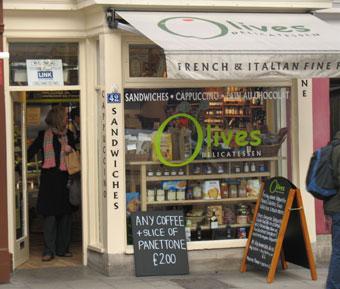 Café, deli, what's the difference?
Olives, on the High Street, does not serve good coffee. It serves okay coffee. On the other hand, it also serves sandwiches so perfect that Thomas Aquinas could mistake them for a teleological proof. All the best things about Italian food – ciabatta, Parma ham, mozzarella, olives, spinach, rocket –  combine to exalt the very medium of "sandwich". Their eponymous olives are also the perfect complement for some oily-fingered summer days.
Jim. Bob. Jimbob's.
Anyone who's walked down Magdalen Street on a frosty morning must have been tempted by the smell of frying bacon wafting from Jimbob's door. Amiably run by Jim and Bob (no surprise there), the café deals out dozens of sublime brie and bacon baguettes every day. There's plenty of Wi-Fi to go around and a good seating area downstairs. They've got a good sense of humour too – just check out this bit of on-the-button satire…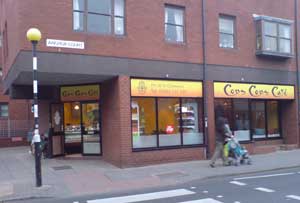 The best reason you'll ever have to go up St. Clement's.
"Falafel and hummus on ciabatta please." "Merguez sausage ciabatta please." The Cous Cous Café's Moroccan sandwiches are second to none in Oxford, and had me living in a hummusy haze from the moment I took my first bite. Its little stools, crafts for sale and outdoor section (with shisha on offer) make the Cous Cous Café the ideal place to while away an hour on a Saturday afternoon. The service is superb, but sadly the coffee's very average. No matter – just take a sandwich up to this list's No. 2 for the perfect coffee pairing, if you're up for the five minutes' walk.
Yep, that's a lampshade made of books. Edgayyy.
Now we enter the part of the list where bean and brew are everything. An independent café lives or dies by its coffee – and JCT certainly passes the test. Situated in the old Babylove by Oriel Square, Jericho Coffee Traders offer some pretty great cups of coffee, with a jelly baby on every spoon. Much consternation was caused last term when it turned into a taxidermy shop for the filming of Lewis, but it returned as stripped back as ever. Perfect to complement that shabby chic aesthetic you've been crafting on your Instagram all summer.
"Vinyls" is not the plural of "vinyl", before you embarrass yourself.
The Keen Bean Coffee Club
Comprising of just a few tables by the windows of Oxford's best (only?) record shop, Cowley Road's Truck Store, the Keen Bean serves some damn good coffee. No food is offered (you'd get fingerprints on the record sleeves!) but you can fill yourself up with some good crate-digging. Good music, good coffee. All there is to say.
(UPDATE: There's something more to say. Since time of writing what was the Keen Bean Coffee Club crossed the road to the meticulously decorated Bear and Bean across the road. Mostro Coffee are the new tenants and poured me the kind of flat white which seriously bothers the top 3 of this list. Keep an eye out.)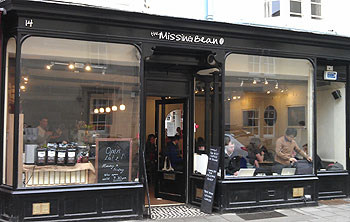 "Bean in 20?" "Yeah, see you there." Credit: (Bex / Double Skinny Macchiato) http://www.doubleskinnymacchiato.com/2014/08/keen-bean-coffee-oxford-review.html
Only fourth, you ask? The Missing Bean holds down its status as having central Oxford's best coffee without much contention. Always packed with Turl Streeters, the Bean does a great flat white as well as a wide range of pastries and sandwiches which I've never let myself try for fear of becoming hooked. It's short on plug space so not necessarily the best place to work, but it is the location of choice for meetings and interviews.
Art. Brew.
A post-prelim craving for coffee drew me down the very un-Oxfordlike North Parade Avenue off Banbury Road, and into the Summertown secret that is Brew. Brew is situated in a small room, with just four tables and a record player – but the room is dominated by the astounding copper and brass espresso machine which fills the counter. A rotating selection of good, simple cakes and some cracking coffee make Brew the North's champion. There you go, Hugh's – you've got a prime location for something at last.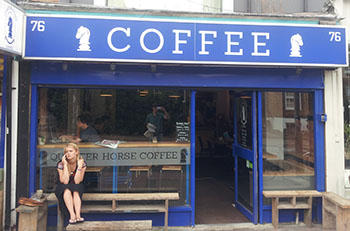 Flat white, deep taste. Credit: (Bex / Double Skinny Macchiato) http://www.doubleskinnymacchiato.com/2014/06/brew-oxford-coffee-bar-review.html
The thing that makes Cowley Road the best part of Oxford isn't the vintage shops, bicycle shops, Truck Store, the O2, the Bully, any of that – it's Quarter Horse. Just before Nando's as you walk up the road, Quarter Horse became more and more of a staple of my life through the last year, to the point that I was finishing loyalty cards quicker than essays. The Wi-Fi's good, the brownies are better, and the coffee's the best – or is it? Sometime last spring, Quarter Horse made the faux pas of switching from Square Mile's Red Brick blend to its own tasty, but not quite equal, single-estate choice. That left a gap for another café to take its crown, a café by the name of…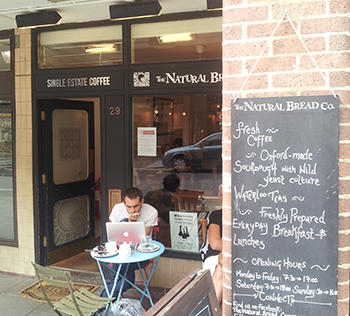 Naturally the bread-st. Co. I tried.
"That, my friend," you say, "is not a café. I have seen a fair few bakeries in my time, and guess what? That's a bakery, that is." Ok! It's mainly a bakery and restaurant. Yes, it closes too early. But who cares, because it serves the most deliciously smooth flat white in existence. The coffee alone is enough to get it to the top of this list, but it doesn't end there. The Natural Bread Co. also offers some ridiculously tasty soups and sandwiches, all complemented by their freshly-baked sourdough. If anywhere in Oxford's going to drag me out of the way for a small cup of coffee (and this is well out of the way, at the Jericho end of Little Clarendon Street), it's the Natural Bread Co. Get yourself down, grab a coffee, and then sit in Wellington Square with a G&D's bagel. That's the lunch. That's the life.
There you have it – Oxford's top 10 cafés. You'll never have to go to a Starbucks again…