A parody "Cis-het Fest" event was set up to protest against the numbers of heterosexual interlopers buying tickets for this year's Wadham Queerfest
Members of Oxford's queer community were disappointed to see Queerfest, an event intended as a safe (if not exclusive) space for LGBTQ+ individuals to celebrate queer culture, beset by cishet people buying tickets. Tickets went on sale at LGBTQ Soc Drinks earlier this week, an event which was moved at the last minute to Christchurch. Some have alleged that the ticket queue was brigaded by a rush of straight people who, with no interest in queer culture or the rest of Queer Week, were just looking to get in on the party. On the Queerfest Facebook event page, queer Oxonians, especially those who missed out on tickets, derided those straight interlopers as "immoral". In response to this perceived misguided allyship (or cultural erasure, take your pick), the OUSU LGBTQ campaign put up an event by the name of "CIS-HET FEST 2015".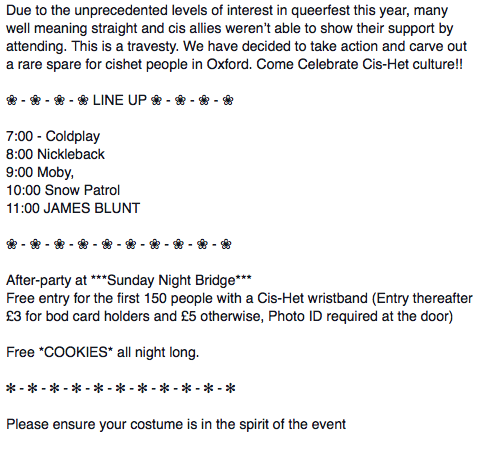 The event description followed the structure of Queerfest's own page, but with all references to queer culture replaced by weakly stereotypical "cishet culture" equivalents. If statistics are to be followed, then upwards of 90% of the world's culture should be cishet, so it's a wonder that it could be narrowed down to beige and cookies (are cookies really the PIV equivalent of burritos?). The parody music line-up included the likes of Nickleback, Coldplay, and JAMES BLUNT (sic): an astonishing vote of confidence in the booking ability of the imaginary Cis het Soc's Social Sec.
The event was deleted on Friday, lest anyone get the misconception that Cis-het Fest was a real thing – most of the world is basically Cis-het Fest, anyway.
VERSA kind of wishes Cis-het Fest was a real thing. After all, with free cookies and a live performance of everyone's secret favourite song, How You Remind Me, what's not to like?