Freshers, you may have heard many stories about the work load at Oxford. But that's really about Finals which are ages away. You've got a lot of drinking to do before then. When your tutors do hand out that first piece of essay/problem sheet in 0th week, take some advice from Liz Kendall, who has been equally thrown into the deep end. 
So you've been set an essay for 1st week. You might initially say, "To the library!" and get it out of the way, but then you have drinks with your college parents, formal hall, and club nights at Park End, and Bridge, Wahoo, and even Cellar (perish the thought). Then sometime at midnight the day before it's due, it hits you. "Shit, I've not done that essay." Before you know it, you're pacing around the room in a panic like Liz when she read the recent polls.
Remembering that Extended Project you started and then abandoned after getting your acceptance letter, you brainstorm by jotting some stuff on that pad. The benefit of doing this is that from a distance, it looks like this.
Though really, you're doodling or repeatedly writing your ex's name who's now in their third week at somewhere irrelevant like Durham. Or in Liz's case, you're alternating between scribbling "Fuck Jeremy" and "I<3 Tony".
Come on, you weakling. Time is ticking, and you fancy getting some sleep before being asked about the stuff you wrote the next day. You start typing, and you can't stop.
Like seriously, it becomes more of an effort to stop than to continue…
Look at you, typing away actual words to give to a world renowned scholar on your subject.
Even Will Smith's clapping you on now!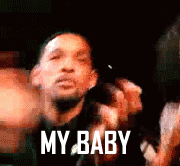 2784 words and five hours later, you are bringing your first essay to an end with a spectacular crescendo, just like Liz has done with her speech, and the Labour Party might have possibly done with itself.
With that, you relax…
You think after all that, maybe this is your first step in becoming a world expert on your subject.
Maybe one day, you will step into the sensible, comfortable shoes of your tutor.
Maybe Liz will be the modern face of the Labour Party (okay, I won't get too carried away).
But maybe you realise, you can do this.
Good luck, fellow traveller.
P.S. Your first essay will almost universally be covered to death with red pen and criticised by your tutor. xx